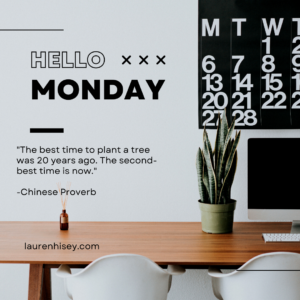 It's never too late to plant seeds
It is about helping people on their CI journey
Happy Monday, July 31 – It's time to plant seeds
Happy Monday, it's time to plant seeds
🤔 Over the weekend, I was thinking about this very quote.
🌳 I've planted seeds since 2019 I first started my business.
🌳Some of those seeds have grown quite nicely, but sometimes you start to think about how you want to help people.
🎯 This means that over this past month, I reflected on where I want to go with my business and what goals I want to achieve.
😍 It is about something other than making money for me; it is about how I can help people on their Continuous Improvement journey.
🤔My husband said something that truly shocked me a few weeks ago. He asked me why I don't teach more Lean Six Sigma classes and why it wasn't a part of my core offerings.
😍 He said you always smile after each class you teach and are on top of the world. That may be where you help people on their journey.
🤔When your closest and biggest supporter tells you this, you have to stop and think about things because my husband knows me better than anyone.
💡 My husband always knows where I want to be before I do it myself.
🌳 So with that, I decided it was time to plant and water a new tree.
What does that mean ❓
👉 It means I will start doing more Lean Six Sigma training. Be on the lookout!
💡 Remember that you can always change direction!
🧡 It is more about following your heart and helping others!
👉What are you planning for this week?
👉Are you planting any new seeds or watering your existing seeds?
If you want to learn more about our Lean Six Sigma training, you can view our offerings here, or let's schedule a time to talk.