Happy Friday, Celebrate the successes
💡 As the week ends, it is time to reflect and celebrate the successes you have achieved for the week. Here are some ways to celebrate and reflect:
✅ Shout out to others: If someone helped you this week or just did some fantastic work, take this time to highlight them! Sometimes celebrating others helps bring joy to our lives. My friend Cassandra Worthy always celebrates with a gratitude rampage on Linkedin everyone Friday. It gives others a chance to shout out to those who helped us along the way.
✅Reflect on your wins: Success comes in many shapes and sizes. Whether closing a major deal, presenting on proposal or project, starting or completing a new project, taking training, implementing a new strategy, or sampling cross things off your to-do list, take a moment to recognize your victories.
✅Lessons Learned: Continuous Improvement is at my core, and I love thinking about all the valuable lessons I learned this week. This might be a new way for you to try things. I had a client who would have a retrospective with her team at the end of each week. It was a fantastic exercise for her team to reflect on and celebrate the week.
✅Gratitude and Encouragement: Take the time to spread positivity! Express gratitude for the opportunities, conversations, experiences, or relationships contributing to your success. Your positivity will encourage others to celebrate and keep pushing toward their goals.
💡Friday is not the end of another work week; it is an opportunity to reflect on our achievements, express gratitude, and set a positive tone for the weekend!
👉 What are some of your victories this week?
👉Who or what are you grateful for this week?
👉Let me know below in the comments 👇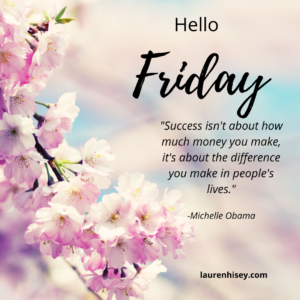 "As the week ends, it is time to reflect and celebrate the successes you have achieved for the week"