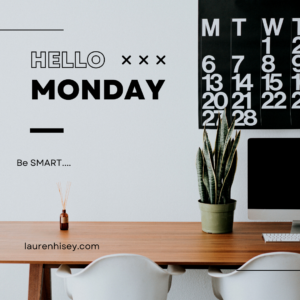 Specific
Measurable
Achievable
Relevant
Time-based
Happy Monday, be SMART
Happy Monday, it's time to be SMART ❗
📅 As you start your week, take a few moments to decide where you want to start this week and a goal you want to work toward.
💡 Just as with any project, you need a start and an end.
💡It helps you face the challenges ahead and gives you direction.
💡While setting your goals for the week, remember to be SMART:
✅ Specific: Make your goal specific
✅Measurable: Make sure you have a way to measure progress and your goal
✅Achievable: Make sure you can attain your goal reasonably.
✅Relevant: Your goal should align with your long-term objectives, no matter how big or small.
✅Time-based: Set a realistic but ambitious date to work towards.
🏫 I've always told my students that the end date gives them direction in their projects.
🤔 By being SMART, you have an end date in mind, but you can adjust as needed.
💡Your goals and plans help guide you in the right direction so you do not wander around without an end in mind.
👉How are you SMART with your goals?
👉What are you working on this week?
👉 If you want to learn more about how to be SMART, let's schedule some time to talk.