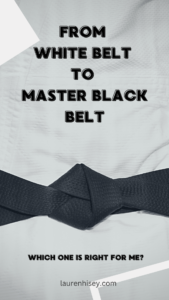 From White Belt to Black Belt, Which one is right for me?
🤔 Often, I'm asked from White Belt to Black Belt, Which one is right for me?
🥋 My answer often depends on what the person is trying to achieve. There is no one simple answer because you need the proper certification to fit your needs.
💡 So, where do you start?
💡Hopefully, I can help answer some of these questions below with the different training and certification levels:
✅ Level 1 -White Belt: This is a wonderful entry-level place to start with an introduction to LSS. The class will provide a solid foundation for key concepts and terminology.
✅ Level 2 – Yellow Belt: You will gain a better understanding of LSS principles and methodologies. While this is still a basic level, you will learn to identify improvement opportunities, use LSS within your work area and assist in project teams. This certification level is perfect for those seeking a hands-on role in process improvement initiatives.
✅ Level 3 – Green Belt: With this intermediate-level certification, you develop advanced problem-solving techniques, statistical analysis, and project management skills. You will be a vital asset to project teams and have the leadership and skills to lead small-scale projects within your functional area. You will use the systematic approach and data insights to drive significant project improvements. About 20% of your time will be spent working on LSS projects while doing your existing job requirements.
✅ Level 4 – Black Belt: You are now ready to become an expert in Lean Six Sigma by leading complex LSS projects, mentoring Green Belts, and delivering substantial results. With advanced statistical knowledge and exceptional leadership skills, you will work with your project teams to drive transformative changes, efficiency, quality, and innovation.
✅ Level 5 – Master Black Belt: You are well versed in Lean Six Sigma, and you play a crucial role in strategy development, organizational leadership, and coaching Black Belt and Green Belts. You might also teach LSS to lower belts. As Master Black Belt, you help shape the organization's future through continuous improvement and excellence.
🥋 Your certification level depends on your current role, career aspirations, and responsibilities. Each level offers a unique skill set and knowledge that allows you to contribute more effectively to your organization's success.
🥋Choose the level that is right for you and your passion. I always tell people to start with a lower-level certification if unsure. But either certification level can enhance your career trajectory and help positively change your organization.
👉 If you want to learn more about LSS certifications, let's schedule a time to explore the different options.