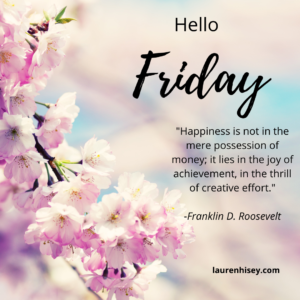 Happy Friday, What is your passion?
Have you thought about what your passion is?
I have learned over the past few years that time is not
.
Even though we live like it is linear, I realized that time is fluid.
Sometimes the weeks seem to crawl, and sometimes the weeks fly by.
The weeks fly by when you are having fun, especially if you are working on things that make you happy.
One thing I have found is that once I realize what makes me happy, I get excited to work on things.
People always ask me what I want to accomplish or love to do.
My answer is always simple; I like helping people solve things and make a difference.
That is one of the main reasons I love Continuous Improvement.
Especially when I see my clients or students' eyes light up when they begin to solve things.
It comes down to helping them!
It can be that simple; sometimes, it is so easy to overcomplicate things.
That is why when you are in a place or job you dislike, you must find the passion for what makes you whole.
Finding something that brings you joy can help you achieve your goals.
It is not always about money because that will come if you do something you love.
The most precious thing is time.
Instead of focusing on the monetary value, find that thing that gets you out of bed every morning.
As we end the week, remember that time is not linear, and if you can find passion in what you do, then time will not matter.
So do not wait; find that passion!
How was your week?
What is your passion?
If you would like to learn more about Continous Improvement, let's set up to