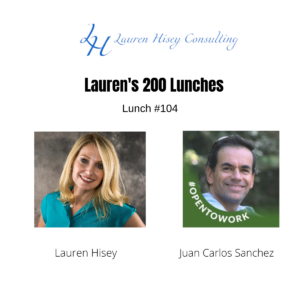 Lauren's 104th lunch
☕ Lauren's 104th lunch was with Juan Carlos Sanchez. I met Juan Carlos through Kettering. At a Kettering event, Juan Carlos and I discovered that we both worked at AT&T. AT&T is such a big company that we never crossed paths. We shared some great AT&T stories during our different conversations.
💡 Besides working at AT&T, Juan Carlos has also worked with Startups. I always love hearing the stories of startups vs. big corporations. It provides an interesting perspective as I learned more about Startups in our conversation. What intrigues me about Startups is that they sometimes have similarities to big corporations in culture, technology, and processes. I have told my Lean Six Sigma students that I have never seen a company with "Six Sigma."
🏎 I also learned that Juan Carlos likes to drive in the North Georgia mountains, just like I do with my husband. We shared how we have been on almost all of the back roads in North Georgia. Driving these roads in the fall is fun as the leaves change. Hopefully, fall will come sooner rather than later this year.
👉 If you want to learn more about my lunches or participate, follow #laurens100lunches and #laurens200lunhces or message me.
👉If you want to learn more about Kettering , let's schedule a time to talk.