What is Lean Six Sigma?
Lean Six Sigma is a practice that combines two popular methodologies of Lean and Six Sigma. As a result of combining Lean and Six Sigma Tools, you get strong results that improve business profits, operating efficiency, and most importantly customer satisfaction.
Before we dig into Lean Six Sigma, we must first answer the questions:
What is Lean?
What is Six Sigma?
Then we can answer the question, what is Lean Six Sigma?
What is Lean?
When you think about Toyota vehicles, what comes to mind?
You might have come up with:
Long-lasting
Affordable
Reliable
High quality for the money
When I was a kid, you would buy a Toyota car over an American car if you wanted something that was going to last a long time. As a result, you were buying the Toyota Production System – a Lean concept. Lean has come together after many years of study and theories from Henry Ford, Toyota Production System, Just-In-Time, Eli Whitney, Edward Demming, and other great thinkers.
Lean is a methodology the reduces or eliminates waste out of a process. As a result of removing waste, the only thing that is left is the value add (VA) steps. You now have a high-quality process that produces higher customer satisfaction rates. In simple terms, waste is anything that does not add value to a product or service. As a customer, you do not want to pay for the waste. It raises costs! In addition to higher customer satisfaction rates, Lean helps with:
Reducing cycle time (the amount of time takes to produce a product or service)
Creating a high-quality product with little to no defects
Reducing overhead or inventory
While Lean wants to remove the waste, I always felt that the customer was another critical aspect. The customer is vital in any industry and should still be the forefront of what we do.
The "customer" is throughout the five principles of Lean:
Identify your customers and what they value
Map the

Value Stream

Create the flow to the customer
Establish pull based on customer demand
Seek continuous improvement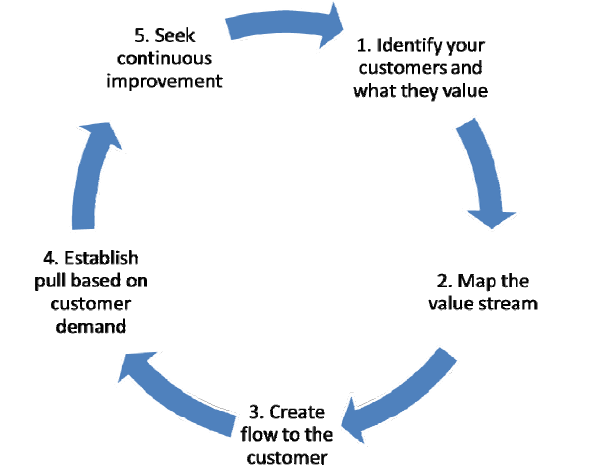 Photo Credit: https://blogs.mtu.edu/improvement/files/2014/01/5-principles1.png
If you want to learn more about Lean, I recommend the article – What is Lean? also, the book Lean Thinking: Banish Waste and Create Wealth in Your Corporation.
What is Six Sigma?
My first introduction to Six Sigma methodology was during my MBA. I knew it was a systematic data-driven methodology. However, I never saw Six Sigma in action, until I went through AT&T's Six Sigma program.
Did you know that Motorola used Six Sigma back in the 1980s?
Back in 1984, Bill Smith introduced Six Sigma within Motorola to compete with Lean. For example, throughout the 1980s and into the 1990s, Six Sigma was heavily used in manufacturing. Jack Welch, Larry Bossidy, and other great thinkers developed Six Sigma.
Six Sigma is a disciplined, data-driven approach to process improvement. Six Sigma makes things better, faster, and at a lower cost. Therefore, it cuts process variation and enhances process control.
There are two main frameworks for Six Sigma:
DMAIC – Fix broken processes and products
DMADV – Create new methods and products
DMAIC
DMAIC is an acronym for Define, Measure, Analyze, Improve, and Control. It provides a roadmap to improve and give stability to existing services, products, or processes.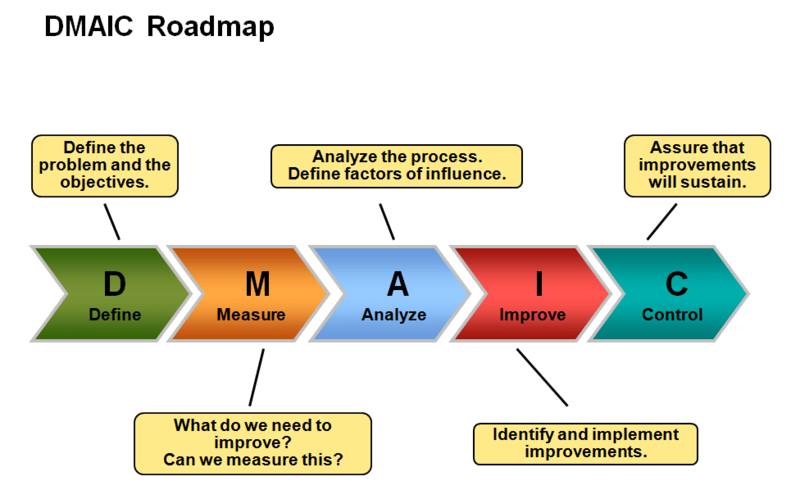 Photo Credit: https://www.greycampus.com/blog/quality-management/a-brief-introduction-to-lean-and-six-sigma-and-lean-six-sigma
DMADV
DMADV is an acronym for Define, Measure, Analyze, and Design. By using this roadmap, you can create a new service, product, or process. Sometimes things are too broken; it's better to start fresh.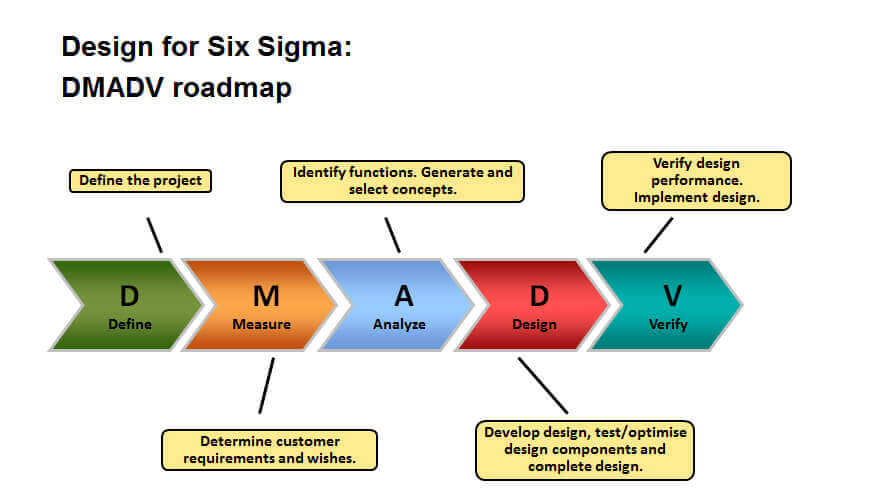 Photo Credit: https://www.sixsigmaconcept.com/six-sigma-design
To learn more about Six Sigma, I recommend the article – What is Six Sigma? also the book – What is Six Sigma
What is Lean Six Sigma?
What happens when you combine Lean and Six Sigma?
You get a powerful method that combines powerful tools that produce quality products, services, or processes. Therefore you get highly satisfied customers, impactful savings, and higher revenue.
When I started down my journey into the Lean Six Sigma world as a Black Belt, I only used Six Sigma. As my career grew, I began to learn Lean and began to join both in my projects and programs. After that, I started to see more significant results.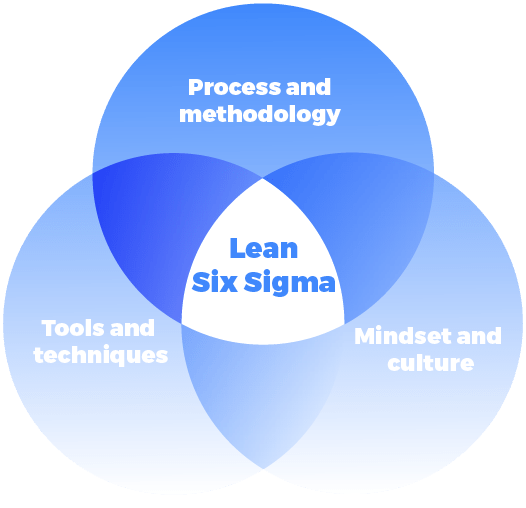 Photo Credit: https://www.goskills.com/Lean-Six-Sigma
Lean Six Sigma is a newer concept introduced in 2001 by the book – Leaning into Six: The Path to Integration of Lean Enterprise and Six Sigma. Many different organizations use the idea like Nielsen, AT&T, Amazon, Caterpillar, Dell, Bank of America, US Marine Corp, and US Army.
Overall Lean and Six Sigma do have the same goal, but each discipline identifies roots causes of waste differently. For example, Lean thinks waste comes from the non-value added steps while Six Sigma thinks waste comes from variation. While both methodologies are right, when you combine them you get something even more powerful!
When I practice Lean Six Sigma, I review what is going on to find the approach that I'm going to take. Consequently, there are always two sides to every story. In other words, never judge a book by its cover.
Lean Six Sigma Examples
The Lean Six Sigma Examples I usually come across are the following:
If detailed data does not exist, I'll take a Lean approach to makes things effective and efficient. With waste eliminated, I'll put a data system into place. Then I'll use the observations to take a Six Sigma statistical approach to enhance things further.
If detailed data is present, I start with a Six Sigma approach and then bring in Lean. This approach is unique because I can use Lean Six Sigma right away instead of using each method separately.
With the creation of something new, I approach this by using DMADV and Lean together. Both approaches generate creativity and innovation.
Lean Sigma produces successful exciting outcomes!
How can you use Lean Six Sigma?
Can you think of ways to use it within your business?
In the coming weeks, there will be blog posts about Lean Six Sigma in more detail and how to use it. If you don't have time to wait, Contact Me to see how I can help you now.