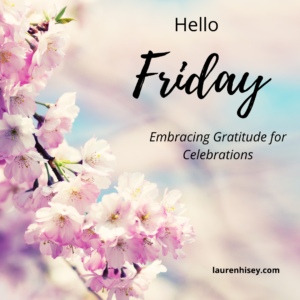 "Taking a moment to express gratitude for these occasions is a beautiful practice. It's a reminder that life is filled with reasons to rejoice and that each event, big or small, adds a vibrant thread to the tapestry of our journey.."
Embracing Gratitude for Celebrations
🌟 As we progress this week, I reflect on embracing gratitude for celebrations. They remind us of the moments that truly matter – the milestones, the achievements, and the connections we hold dear. 🥂
Taking a moment to express gratitude for these occasions is a beautiful practice. It's a reminder that life is filled with reasons to rejoice and that each event, big or small, adds a vibrant thread to the tapestry of our journey. 🎊
❤️I express gratitude to my clients and students this month because without them I would not had many different opportunities from presenting and being interviewed at the Applied Intelligence conference to helping my clients with strategy and improvements to launching a new set of Lean Six Sigma Classes that start next week.
❤️Through these movements, I've realized that I'm moving more and more to my I
kagi
. Earlier the week, my friend Katie Anderson reminded me about Ikagi, a Japanese concept of your life purpose or bliss. At the end of the day, I always say that my purpose is to help people with their journeys. After thinking long and hard over the past few months, my husband reminded me how excited I get to teach
#leansixsigma
. With his encouragement, I set out to launch my Lean Six Sigma classes before the end of the year to further develop my Ikagi, consulting, and fractional leadership.
👉As you move into the weekend, stop and embrace gratitude and celebrate your beautiful moments and Ikagi.
👉What are you celebrating this week?
To learn more about our Lean Six Sigma classes, visit our Training Page.