The Value Lean Six Sigma Brings
After I wrote my article on Lean Six Sigma benefits for Small to Medium Businesses, I thought it would be beneficial to write about the hard facts with Lean Six Sigma. It is essential to understand the ROI and value Lean Six Sigma brings, regardless if you hire a consultant or implement a program within your own company.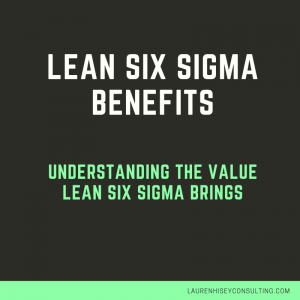 Before diving into the numbers, we should recap some of the benefits of Lean Six Sigma.
Hard Benefits
The hard benefits are generally tangible things, for example:
Reducing processing cost
Increasing revenue
Improving cash flow
Eliminating the need for capital expenditure
Faster quote to cash
Reduce the need to hire additional employees
Reducing operating costs
Reduce the need for extra inventory
Reducing machine operating time
Reducing overtime hours
Reducing cycle time to deliver the service or creating the product
Soft Benefits
LSS soft benefits do not have the same tangible effect as hard benefits. However, these soft benefits are beneficial for the business. Examples of soft benefits are:
Customer focus

The focal point becomes the customer instead of the company
Happy customers usually lead to more revenue
A good and bad review can make or break a business

Improved employee morale

Happy employees enjoy coming to work every day
Happy employees treat customers and other employees with respect
Unhappy employees can result in high turnover and loss of talent

Improved employee effectiveness

Employees perform better when they are happy
Better performance means satisfied customers

Leading by fact and alignment

LSS provides a way for owners, leaders, and managers to manage the company based on facts
LSS eliminates the need for guessing
LSS provides critical measurements for a business to define success
What is the value of Lean Six Sigma?
So what does all of this mean in the terms ROI and the bottom line? Let's dive into the numbers I compiled from some research and my success.
The numbers below I gathered through my research:
Allied Signal – Over the past 12 years, cost savings over $800 M
US Army – Cost savings around $2B in 2019
UCSD Medical Center – $ 4M in savings
Ford Motor Company – $300M in savings
Agilent Technologies – $ 2B in streamlining their Supply Chain
Sources: https://educhapter.com/2019/01/09/financial-benefits-of-lean-six-sigma/ and https://goleansixsigma.com/success/ and https://www.achieveprocessexcellence.com/support-files/continuous-improvement-success-stories-by-industry.pdf
Within my 12-year career in Lean Six Sigma, I have saved companies ~$14 M + in revenue and savings. Some individual examples of my successes are:
Reduce the time and improve the quality to post a job for external recruiting from 1 month to 4 days –

~$800K in savings
Improved employee morale

Improved quality of client reports and services

$ 2M in revenue
Enhanced client relationships and employee morale

Improvement of two products cycle time and quality

$3.5 M in operating cost savings and revenue retention
Improved employee morale and customer satisfaction

Improvement in delivery cycle time for an international product

Improved employee morale and customer satisfaction
$5M in increased revenue and operating cost savings

Improved sales cycle time and quality

~$1.5 M in revenue
Improved Sales employee morale
Improved communication with potential and new clients
What does this all mean?
Lean Six Sigma is beneficial to any business, no matter the size or industry. The numbers above are only scratching the surface. Just based on these numbers, it is easy to see the ROI on Lean Six Sigma and how it affects a business' bottom line.
If we look past the hard numbers, we can also see how Lean Six Sigma does have soft benefits. Just the increase in customer satisfaction, customer loyalty, and employee satisfaction provides better brand awareness and improved market share. These soft savings contribute to the overall bottom line.
Everything adds up to help create a successful business. Any type of business, regardless of size or industry, can benefit from Lean Six Sigma to help them grow and become successful.
Have you or your company utilized Lean Six Sigma? What are some of the benefits that you have seen from using Lean Six Sigma?
If you want o use Lean Six Sigma within your business, Contact Me.