My First 50 Lunches with Strangers
Eleven months ago, I embarked on my journey to meet 100 new people with my Lauren's 100 lunches with strangers. I started down this journey because of my fantastic friend Bianca from Australia. We realized it was going to be sometime before we would see each other in-person. At first, we were sad, but she reminded me that we could control how we respond to things while we can't control the world. Over the past year, Bianca and I have spoken via phone, video chatted, and message one another. Sometimes we the two of us talk, and other times, we included her fiancé and my husband. While we are miles apart, I'm reminded of the special friendship we have and how we met playing craps in Vegas. Through these conversations, I realized that we do not need to see people in person to stay close with our family and friends, but we can also network. There have been plenty of times I don't see my family or my best friend for a while. It is through text, phone, and video chatted that helps to keep us close. My best friend and I either talk or text almost every day and it has been about a year a half since I saw her. We have kept close because of this. This should be no different with networking or doing business. In fact, Zoom has opened so many doors for me that I had to reflect on my 50 first lunches with strangers.
I learned about 100 lunches through Lili Boyanva. I was a part of Lili's 100 lunches, and she was my inspiration to start my lunches. Through Lili, I learned that we have a common connection through Karyn Ross and the Women In Lean group. Lili also introduced me to Kaley Chu, who started the fantastic movement of 100 lunches with Strangers. It was a way for her to meet people out of her social circle. While I'm no stranger to networking and an extrovert, I'm was a little hesitant to meet new people. But Lili and Kaley inspired me to meet 100 new people, and we can use Zoom or meeting in-person. We do not need the constraints of a pandemic to keep us back. Fear and choosing not to move forward is a state of mind that we can control regardless of what is going on around us.
Through this journey, I'm reminded of Karyn Ross's quote "that it is not about the destination but the journey." It is about learning, paying-it-forward, and providing kindness. Networking and friendship are not about us but the other person. While I'm growing through this journey, I also think about helping the other person. Networking and meeting other people are not always about us, but the other person. It is about connecting and learning. You never know which direction each conversation takes and how much you grow from learning from the other person.
When I hit my 50th lunch a few weeks ago with my lunch with Liston Edge, I never realized how much this journey would mean to me. At first, I started my 100 lunches, to become better at networking. It was about becoming comfortable meeting people in different industries. Along the way, I've met 50 wonderful new people, some close to home here in the Atlanta area and others as far away as Australia. I learned more about myself than I realized, and learned that people are so kind and willing to help. Through this journey, I have discovered so many things like:
The appropriate audience for my business,
Where people are within their career
The different books I want to read.
How to sell through conversation
How to listen
How business leaders and owners think in today's environment
Kindness in different parts of the world
The world is not such a big place.
We can make friends regardless of where we live.
The most important thing I have learned along this journey is that we should not allow time or space to get in our way. It doesn't matter how far away someone is; we can still connect with them via phone, text, or video chat. Instead of waiting for tomorrow, we should take action today, even if a small step. We need to throw fear out the window and take leaps of faith. Fear only holds us back from accomplishing great things. Once we get rid of fear, we can achieve anything and set our successes. It is about doing what we love, helping others, and practicing gratitude!
I just completed my 58th lunch, and I'm looking forward to the next 42. But I'm not in such a hurry anymore because I'm enjoying my lunches and the journey. Who knows, maybe when I get to 100, I'll extend my goal. But for now, I want to enjoy the next 42, so I can learn and grow from each person I meet.
Would you like to have lunch with me?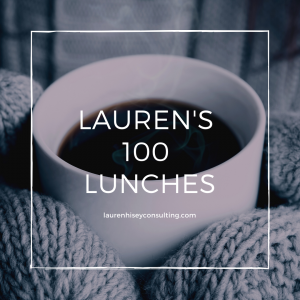 "It is about learning, paying-it-forward, and providing kindness. Networking and friendship how people are so kind and willing to helpare not about us but the other person. ."