A Process Mapping Journey for my business!
🔍As a Lean Six Sigma Master Black Belt, I believe in practicing what I preach. I am excited to share my latest project – a process mapping journey for my business! During the process mapping venture, I used trusty Post-it notes and markers to visually dissect and refine the intricate steps of my business operations. From concept to execution, this exercise proved invaluable in optimizing efficiency and enhancing quality.
💡 As this is a Team effort, my Business Manager and I walked through the process together to ensure we covered everything. The process mapping did change a bit, but that is why it is a Team effort.
🚀Taking it further, I transferred this refined blueprint to Miro for seamless collaboration and future reference. The result? A streamlined, efficient process ready to propel my business toward even greater heights!
🚶‍♀️ Remember, it's not just about teaching and consulting—it's about embodying the principles. I walk the talk in my business, utilizing the same powerful tools and techniques I share with my clients and students.
👉 If you want to learn about process mapping and Lean Six Sigma, let's schedule a time to talk.
Visit us on YouTube and LinkedIn.
Cheers to continuous improvement and the power of process mapping! 🚀📊💡
Before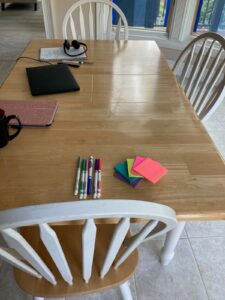 After