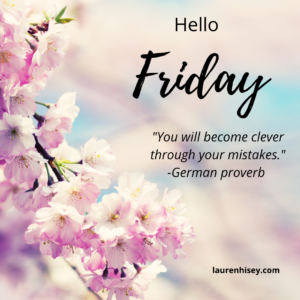 "You will become clever through your mistakes." – German Proverb
Happy Friday
I encountered this German Proverb earlier this week while reading Turn Words into Wealth by Aurora Winter, MBA.
📖In the book, a series of questions asked you to think about shrinking your fear by facing reality.
💡This proverb and the idea of shrinking your fear by facing reality had me thinking that even though we should celebrate our successes, we should also celebrate our mistakes.
💡It is the mistakes that help us:
✅ To learn
✅To get to our successes
✅To get out of our comfort zones
🎉 So, as we head into the weekend and close the week, let's celebrate our mistakes and successes.
👉 What are you celebrating this week?